Custom Bobbleheads Made From Photo

WHY CHOOSE US?
1,We 100% handmade your own custom bobbleheads from the photos provided, with the nature color of the polymer clay itself, ensuring all of our custom bobbleheads come out with higher likeness and best details!
2,100% Satisfaction Guaranteed- Free proofs are given at different stages, on every custom bobbleheads doll we create (*unless rush order for certain time lines). Changes will be made to gain your max satisfaction.
3,You can choose standard/urgent/super urgent shipping methods when order online and checkout. Need to receive a custom bobbleheads faster? please choose "Need It Now"- so than we can make and send out your custom bobbleheads within 5 days.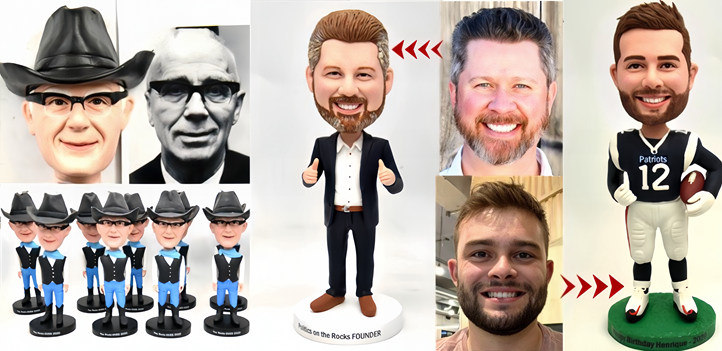 Custom Bobbleheads At WowBobblehead
Have you ever wanted to immortalise your own likeness? Forget oil portraits or photographs, they are so last century. If you want your image to live on long in the memory then you need to create your own custom bobblehead.
For those of you who watch The Office, you'll know that Dwight Schrute, one of the leading characters from the show, had his very own custom bobblehead made by his co-worker.
If you are looking for a great gift to get someone this year, then a personalized bobblehead will live long in the memory.
If you've always fancied that you could be an intergalactic explorer, then putting your face onto the head of a Star Trek captain is the perfect way to show the world just who you really are. If you've always seen yourself as a loveable rogue, then the Star Wars Han Solo bobblehead will have legions of stormtroopers throughout the galaxy quaking in their boots as they look at your fine figure!
You can leave your friends and family green with envy as you transform yourself into an Incredible Hulk bobblehead. They will surely "Marvel" at the wide variety of superheros they can become with just the click of a mouse!
Don't worry, it's not just men who get to have all the fun. There is also a fantastic array of female bobbleheads. If you know someone who is graduating, then immortalise their achievements forever with a student standing on a set of books after graduation style-bobblehead. We all know someone who would rather go shopping than hit the books, so why not buy them their own bobblehead carry shopping bags?
Not only are there individual bobbleheads available, but if you really want to show the world just how close you are as friends, family members or co-workers, then group bobbleheads are perfect. Whether you want to show your sporty side with Taekwondo group bobbleheads or all become your favourite superhero, there are lots of different options open.
Not only are custom bobbleheads a fantastic gift this holiday season, but as they are so personalised they really can show people just how well you know someone's personality. Whether for the office desk or for a place on the home mantel piece, custom bobbleheads can really bring life and soul to a room. Once you have got one on display, then you'l always have a conversation piece with any stranger in the future!